Disk Battle
Tron - Homage
::5mb::
(With Audio)
YouTube
Vimeo
CGTalk Wip Thread
CGTalk Final Entry Thread
Making Of: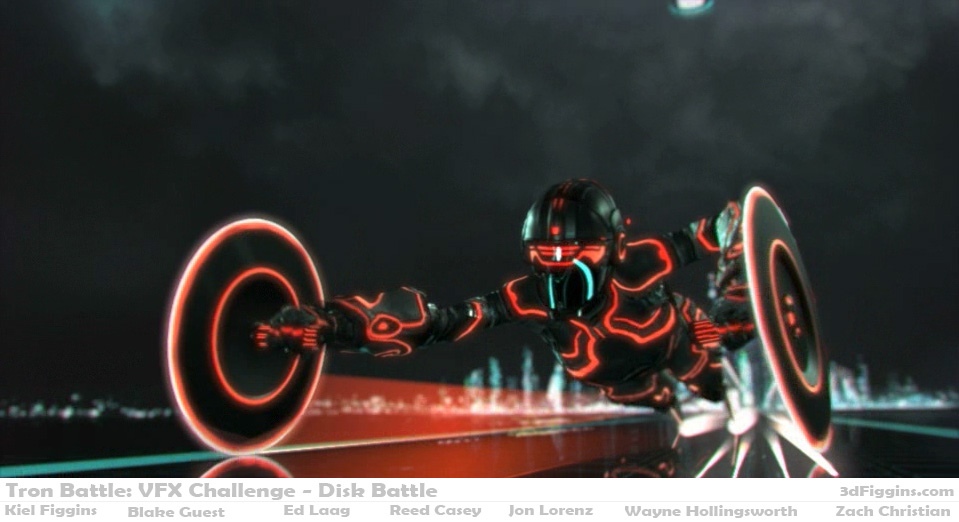 ---
Summary:
---
Entry for the
CGTalk VFX competition
, showing our personal take on the Tron universe and specifically, the Disk Battle.
---
Team:
---
Kiel Figgins
: Animation / Team Lead
Blake Guest
: Lightning / Look Dev
Ed Laag (entecbssd@gmail.com) : Post / VFX
Reed Casey
: Character Modeler
Jon Lorenz
: Post / Audio
Wayne Hollingsworth
: 3d VFX
Zach Christian
: Matte Painting
---
Production Log:
---
Here's our final entry. I'm extremely proud of the work, effort and outcome from this team. Every one of them went far above and beyond.
None of this would have been possible if it wasn't for:
-Blake getting all the Environment modeled, lights setups and render passes taken care for Ed and Jon, all atop really ironing out the visual style of the piece.
-Ed massaging together so many elements, plates and pieces from so many sources for the final composite. Way to take what we had and crank it up to 11!
-Jon stepping in with a killer audio track, helping Ed out with post effect work, especially for the split at the end, and not to mention the title/end card sequences.
-Wayne rocking the 3d Vfx's for the shield, mist and shatters. Truly adds such a richness to the piece. So many details and layers, great job.
-Reed knocking out 2 character models, high res, textures all based off only the slightest concept and in record time. Really allowed time for look dev, rig work, and animation polish having those taken care of so quickly.
-Zach setting the stage and providing on helluva matte painting for Blake to base of the renders off and the rest of the team to really visualize the world.
To the entire team, fantastic job!
To View the entire Production Log: