Disk Battle
Tron - Homage
::5mb::
(With Audio)

YouTube
Vimeo
CGTalk Wip Thread
CGTalk Final Entry Thread



---
Summary:
---
Entry for the CGTalk VFX competition, showing our personal take on the Tron universe and specifically, the Disk Battle.
---
Team:
---
Kiel Figgins: Animation / Team Lead
Blake Guest: Lightning / Look Dev
Ed Laag (entecbssd@gmail.com) : Post / VFX
Reed Casey: Character Modeler
Jon Lorenz: Post / Audio
Wayne Hollingsworth: 3d VFX
Zach Christian: Matte Painting


---
Production Log:
---
---
**6/15 Update**
---
Complete! What a stretch!
Here's our final entry. I'm extremely proud of the work, effort and outcome from this team. Every one of them went far above and beyond.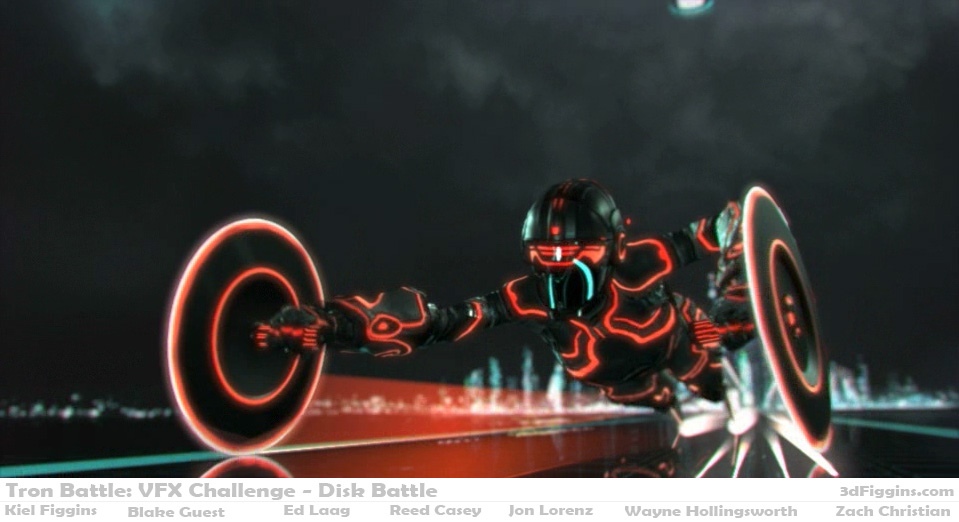 None of this would have been possible if it wasn't for:

-Blake getting all the Environment modeled, lights setups and render passes taken care for Ed and Jon, all atop really ironing out the visual style of the piece.

-Ed massaging together so many elements, plates and pieces from so many sources for the final composite. Way to take what we had and crank it up to 11!

-Jon stepping in with a killer audio track, helping Ed out with post effect work, especially for the split at the end, and not to mention the title/end card sequences.

-Wayne rocking the 3d Vfx's for the shield, mist and shatters. Truly adds such a richness to the piece. So many details and layers, great job.

-Reed knocking out 2 character models, high res, textures all based off only the slightest concept and in record time. Really allowed time for look dev, rig work, and animation polish having those taken care of so quickly.

-Zach setting the stage and providing on helluva matte painting for Blake to base of the renders off and the rest of the team to really visualize the world.

To the entire team, fantastic job!

Voting for competition starts Friday over at CGTalk, Cast yours!


---
**6/05 Update**
---
As the competition end date rapidly approaches, here our next round of updates!
Beauty Pass Render:



**This is only the beauty pass, remaining layers to be render: neon, AO, motion vector, streaks, depth, fresnel, fx, matte painting, rgb mattes, fume**
VFX Hexagon Shield and Fume on the breaks (Wip):




Contego Model Final:



Matte Painting Final:



Animation signed off to allow time for post and vfx to work their magic:


---
**5/23 Update**
---
Huge updates all around!
More animation Clean up:



Arena Lights:



Model Polish up:



VFX first Passes up:



---
**5/16 Update**
---
More animation clean up:



Got a sweet WIP image on the Matte painting, being done up by Zach, gonna be killer!


---
**5/09 Update**
---
A hefty Update!
Blake Guest rocked the initial pass for the environment, lighting and look dev. Nice!
Reed Casey continues to pump out character models, showing the first blocking of the Blue Warrior.
Tron Team grows to include 2 more artist:
Zach Christian rocking the matte paintings.
Wayne Hollingsworth taking up the cup of 3d vfx, smoke, particles and such.

Current Stage of Anim (Still a heavy wip):


---
**5/02 Update**
---
Tron now has a Team!
Reed Casey - Modeler
Blake Guest - Lighting / Look Dev
Ed Laag - Post / VFX

Current Stage of Anim (Still a heavy wip):




Some VFX trail tests:




WIP of Female Mesh done up by Reed:


---
**4/30 Update**
---
Working on some R/D for surface distortion and trails for the disks and other elements



---
**4/28 Update**
---
Heres an updated anim:
more intentional camera
close up on entry for female character. Was thinking some reflections in the visor or under lighting zipping by could really be cool
because rings play such a heavy part in the tron world, i added in a slew of animated torus for vfx
really amped up the intensity of the vfx, going over the top is think is a good thing
mild rig updates (fingers/bind)
more disk movement on female entry


Still have a lot to do, and a few more motions to put in there, will be chipping away at it nightly.


---
**4/27 Update**
---
Inspriational Pieces, character sheet ideas, and other imagery:





Breakdown sheet
---
**4/25 Update**
---
Previs Still Images